See on Scoop.it – Bilingual News for Students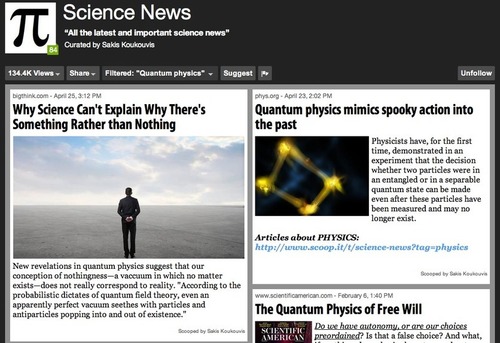 Excerpted from article:
"Ever since we started working on Social Media, we've realized how much content discovery and content publishing were really two sides of the same coin. Working on one is the way to enhance the other. That's why we didn't only want to make it easy for people with expertise and passion to curate content, but also felt we needed to help them be discovered.
So today, we'd like to deep dive on content discovery by introducing two new features that will help users and readers dig Scoop.it content:
1. Topic Filtering:
Filtering now enables any of your readers to search for specific keyword-related posts on your topic.
By typing any keyword (or combination of), they'll get your topic filtered on the corresponding sub-topic.
Note that filtering works by searching through the posts and their content so the great news is that your readers will find keyword-related posts even though you might have not thought of tagging them for that keyword.
2 – Unlimited Follow View:
When we introduced the Follow View, we were careful not to make it yet another stream to watch and felt overwhelmed with.
But what a lot of you told us is that this stream was different than any other social media stream: it was about your interests. And passionate people sometimes can't get enough of good stuff. In other words, you told us it wasn't noise; it was signal. A lot of you wanted to be able to go beyond the 25 posts we were able to display on a page. Today, we're now making this view infinite by letting you go to the next pages beyond the first one by simply clicking the Next button at the end of your Follow page.
Read full original article here:
http://blog.scoop.it/en/2012/05/14/digging-the-scoops/
See on blog.scoop.it